Frequently Asked Questions
and some we thought you might want to know about
What's the typical timeframe?
Pulse Kit Web Design: ~2 Weeks
Timeframe varies depending on the timeliness of communication, holidays, number of revision rounds, etc. 2 Week Turnaround begins when you return your workbook and all content for the website build.
Are you real people or robots?
Yep. Our founder Cecil Killingsworth has been building custom WordPress based websites for years, and has been accused of being a bit of a nerd.
This works in your favor, because we weave all that same experience and specialized skill into our PULSE Formula websites that we gained building all those fancy custom websites.
At a fraction of the cost.
No robots, just real people who love to help.
Do you really offer UNLIMITED support tasks?
YES!
On Elite plans, you can submit an unlimited number of WordPress tasks. Individual tasks are limited to approximately half an hour each, but there's no limit on the number of these "small tasks" you can send us.
What are "small tasks" exactly?
Small tech tasks include any task that takes us less than 30 minutes to complete and typically covers things like content updates, plugin research and setup, theme or stylesheet changes, embedding third-party scripts, hosting server or DNS changes, configuring contact forms, or general WordPress questions, but don't include content writing or programming.
We don't charge setup fees, but each site we build has two fees: a one-time design fee and your monthly care plan fee. See our pricing page for more details.
Why do i pay a monthly fee?
In short, to ensure your success long term.
Too many small business website owners lose control of their sites over time and actually become liability.
This is why our program proactively includes a minimum 12 month care plan so you have the assurance your site is going to be secure, up to date, backed up and performing at its peak.
We'll fix anything we build for as long as you're a customer of ours.
Learn more about the benefits of our customer care plans.
How do I pay my monthly fees?
We will automatically charge your credit card each month so it's one less thing you have to worry about.
There is a 12 month minimum on your CCP. Read "Why do i pay a monthly fee" above.
Trust us, once you no longer have to worry about managing or updating your website yourself, you'll be glad we have this policy! 
Can I use my own hosting provider?
In short: Not in the first 12 months.
Your hosting is included free within your care plan!
We've partnered with an amazing managed WordPress host, Flywheel, to provide a hosting platform that allows us to assure your website is backed up daily, assertively protected from those nasty web gremlins, performance monitored and properly and priority supported if anything goes wrong.
If you chose to opt-out of our Care plan after the initial 12 months, you can take your website and host it wherever you wish.
We recommend a combination of buying your domain name with Godaddy and using Google Apps for your email.
Can I use my own domain name?
Yes you can use your own domain name registered with an external domain provider. If you don't yet have a domain, we can help you choose the right name for your business.
If I cancel, can I take my site with me?
Absolutely. The site we build is yours. The Pulse Formula is a done-with-you service and all plans have the option of being bought outright during your first 12 months for the number of months remaining times it's monthly fee.
This includes us setting up your website for you on an alternative host.
If you opt out of our CCP membership after 12 months, the cost of all software licenses and hosting will be transferred to you to renew yourself.
What is a "happiness guarantee"?
Happiness Guaranteed means exactly that! We'll do everything in our power to ensure amazing deliverables, great results, world class customer service and account attention.
If at any time you feel like this is not being met to your satisfaction we invite you to contact us with any concern as soon as possible so we can make it right.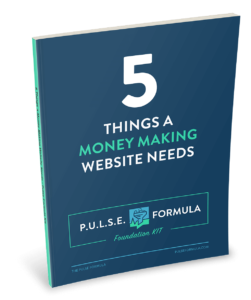 5 Things a Money Making Website Needs
A quick & handy FREE guide to a high-converting website that works
Something went wrong. Please check your entries and try again.